Bathroom remodeling is an extensive process involving many parts. If you miss a piece, there's a good chance your project could head south, requiring you to spend more money than you'd intended on parts and repairs. It's important to consult with a bathroom remodeling contractor before you begin your project to make sure you're covering all the bases and avoiding these common mistakes:

Budget 
Budgeting for the cost of a bathroom remodel is imperative to a successfully finished product. If you budget for small improvements and then invest in expensive materials or major renovations, there's a good chance you'll go over budget and find yourself cutting corners mid-project to make up for the added expenses. It's best to shop around for materials and ideas ahead of time. This allows you to save money for the materials you really want. It's also smart to leave some cushion in your budget for any unforeseen complications.

Energy efficiency upgrades
Bathroom renovation's provide a great opportunity to go green. While some green renovations are a bit more expensive on the front end — dual-flush toilets, double-pane windows and bamboo flooring, for example – they can also save you money over the long term. Some smaller-scale, less expensive improvements can also provide long-term financial and environmental benefits. Consider LED lighting, low-flow shower heads and automatic shut-off faucets.

Ventilation
Replacing the ceiling fan in your bathroom will help keep mold and mildew at bay. Airflow keeps moisture from building up in small areas, and prevents rust on metal and mold growth on flooring and cabinets. You might need to hire an HVAC contractor to do the installation; they can recommend the best ceiling fan for your climate and bathroom size.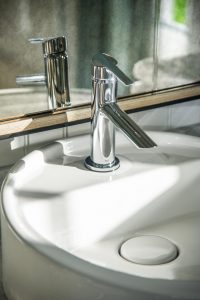 Fixture's and Fitting's
Bathroom fixtures aren't something you'll want to skimp on. It's best to buy quality, durable materials to avoid short-term repairs and replacements. This applies to flooring, lighting and appliances. Speaking with a bathroom designer will ensure that you get the best product for your budget — especially when it comes to your bathtub and shower. Cheap plumbing components can break down easily, causing leaks and other issues.
Storage
Strive to create enough space for the essentials without cluttering your bathroom with cabinets and shelves. You will probably need space for your linens — towels, washrags, hand towels, etc., along with your toiletries and other essentials. You'll also want to make space for cleaning products, so that it will be easy to keep your new bathroom looking its best. Shelving is ideal for toiletries and such; cabinets are optimal for everything else.
For more home improvement tips or if you are thinking about buying/selling a home contact – Delroy Gill